Cathedral of Our Merciful Savior and the Gothic Revival Style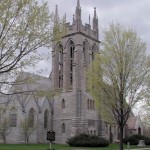 The romantic and religious Gothic Revival style was used for a variety of structures in Faribault, including buildings associated with the various educational institutions and occasionally private homes. The Episcopal Cathedral of Our Merciful Savior was built toward the end of the style's popularity, but the impressive structure clearly reflected the Episcopal Church's English associations and the significance of America's first Episcopal Cathedral. Although the cornerstone for the church was laid by Bishop Henry Whipple in 1862, scarcity of funds meant the the building was not completed and consecrated until 1869. The bell tower was completed in 1902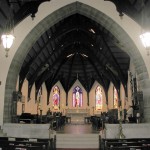 The cathedral bears many hallmarks of the Gothic Revival style, including the use of stone, steep roofs, towers and pinnacles.
Interior as well as exterior spaces make use of the classic, pointed arch form characteristic of the Gothic Revival style. While architect James Renwick, Jr, who also designed St. Patrick's Cathedral in New York, is attributed with the design, local architects were also involved in the cathedral's construction, including C.N. Danielas of Faribault.

Stained glass windows are also a prominent Gothic Revival feature. Many of the windows are gifts from community members, including the "Good Shepherd Window" behind the altar, a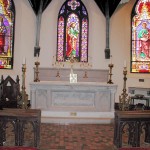 gift of Rev. Ezekiel Gilbert Gear, the first Episcopal clergyman in the the area. The carved stone altar depicts Michelangelo's "The Last Supper."
Additional information about the history of the Cathedral, including detailed photographs of the Cathedral and the Memorial Guild House is a available from the Whipple Sunday website.