What past events were the talk of the neighborhood?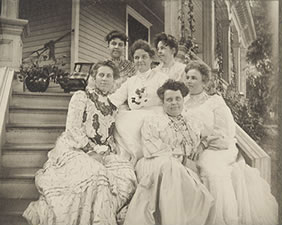 Ladies' Meetings
The women pictured here include Anna Cole Theopold, daughter of prominent town founder and mayor Gordon Cole. All the women in this group were likely members of the the Ladies Literary Club (later the Monday Club). The club was organized in 1878 to enhance the selective membership's knowledge of literature, art, and history. One meeting, held at the home of "Miss Theopold" (Anna's sister-in-law) in 1902, was described in meeting minutes:
"The house was beautifully decorated with dutch tulips, steins and white candles and the hostess received in Holland costume, a true dutch supper served at half past six."
Sleigh Rides

No matter what the era was, sleighs were filled to capacity with family, friends and neighbors when it came time for a ride.

Main Street, 1870.
Carte-de-visite by A.F. Burnham.



Photo by Robert E. Russell, 1938.
Both images courtesy of the Minnesota Historical Society.