Which neighborhood locations were special to Faribault residents?
Central Park
Central Park was included in the first city plat in 1855. It soon became the site of rendezvous and concerts of all kinds in bandshells of different eras. A notice for a July park concert in the 1880s indicated that the evening's program would contain a Sousa march and "Gems of Stephen Foster." People were urged to "Cut this [ad] out and take it with you," apparently in lieu of a printed program.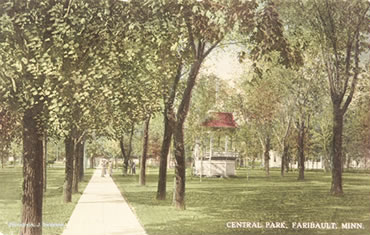 A Letter to the Editor
The importance of the park was made clear in this 1905 letter published in the Faribault Republican.