What were downtown's past secrets?
The Mess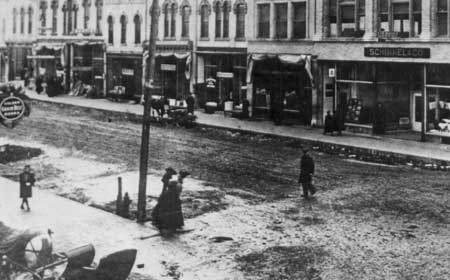 Dirt streets and plenty of "horse evidence" guaranteed muddy problems on Main Street, especially during rains and spring thaw. Plank sidewalks were installed 1871, but the greatest improvements came with the introduction of brick pavers, and, finally, a bituminous layer covering the streets.
The Complaints
Are you disgusted?
"Is there any citizen who is not disgusted with the sea of mud which was to be found on Central Avenue all last week?… Is there any citizen of Faribault whose pride does not receive a severe shock when he reaches Central avenue and sees his wife and daughters attempting to cross the street when mud and slop four inches deep reign supreme at every crossing?… Are you willing to stand up by the side of your fellow citizens and say "I will pay my share to help along the movement for better streets?"…
A commentary from the Faribault Journal, March 25, 1903, provides a vivid picture of turn-of-the-century street conditions.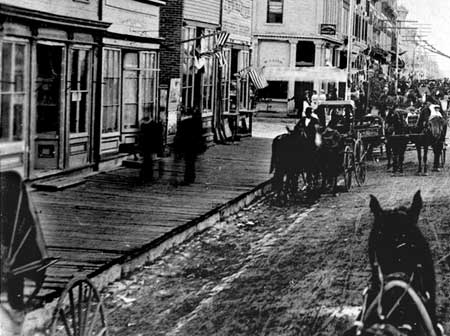 Photo above by Henry Altschwager, courtesy of the Minnesota Historical Society.
"…The street commissioner and others who repair the sidewalks should take particular pains to turn all the planks and boards having spikes and nails in them bottom side up on the sidewalks, [since] it is such fun to see people with their boots and shoes step on those nails, and it sometimes gives the doctors a nice job. The real pleasure [that] is to be experienced running a rusty nail into the side of one's foot is only known to those who have tried it."
Plank sidewalks kept people out of the mud, but created a different set of problems. This editorial excerpt from the Faribault Democrat, April 17, 1874, details some sidewalk complaints.
Men and Their Vices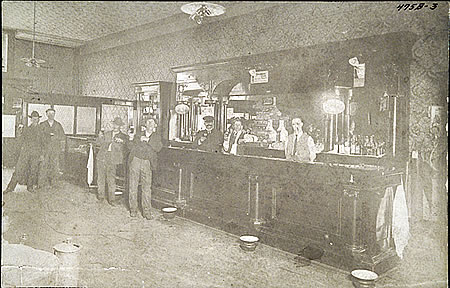 In the late 19th century, men had a wider range of venues in town than women. Exclusive men's domains included barber shops, pool halls and saloons. Newspapers warned against allowing impressionable boys to "hang out" in these establishments, where beer and cigars, both of which were produced locally, were undoubtedly readily available. Note the spittoons in the bar (upper photo) and the gentlemen-only atmosphere in a local billiard room (bottom photo).