Whom could you find in Faribault neighborhoods?
Women and Children
| | |
| --- | --- |
| The idealized turn-of-the century home provided families with a peaceful retreat from the roughness and possible immorality of the city. The women and children in this 1890 photo were sheltered with graceful trees, a protective fence, and a home removed from the bustle of Faribault's street traffic. | |
Domestic Help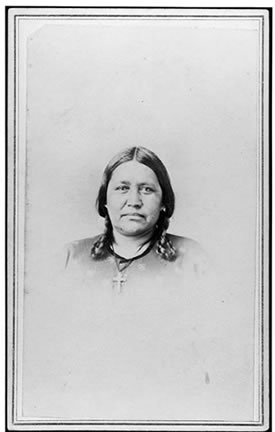 Carte-de-visite by Hardy & Weatherstone.
Image courtesy of the Minnesota Historical Society.
This 1860 visiting card depicts Ellen Penshred, a "nurse and very dear friend" to the Alexander Faribault family; family members called her "Mamma Ellen." 1870 census documents indicate that Ellen was a Dakota or mixed-blood woman born in 1828. Information from Faribault family descendants states that she accompanied Alexander's grown son, William, to his new home in St. Louis, but, becoming homesick, returned to Faribault to live with Alexander's daughter, Julia. Family records note that she died in 1895 and is buried in the Faribault family plot in Calvary Cemetery.
Town founder Alexander Faribault had at least two homes in Faribault. He built a Greek Revival home (now open to the public at 12 1st Avenue Northeast) in 1853 as he completed his transition from fur trader to town proprietor. In 1856 he constructed a new home on the bluffs, which he later sold to the State School for the Blind. As the son of a French-Canadian fur trader and a Dakotah woman, Faribault had the cultural and linguistic knowledge to move easily between these worlds. When land treaty outcomes and the Dakotah War compounded difficulties for the Dakotah, Faribault maintained his ties, providing employment in his flour mill and, as suggested by this photo, in his home.