Kids Page
Play Monument Master

Test your Faribault Historical Knowledge…play Monument Master with Alexander Faribault!
Build a Sellner Water Ride
Herbert Sellner was a Faribault inventor who loved fun. He first designed furniture. Then he invented children's toys, including a sled with wheels. In the 1920's, he began to design amusement park rides. His most famous invention is the Tilt-A-Whirl, which is still manufactured in Faribault. He also invented a Water Wheel ride. Advertisements said could be used to teach diving. It was also used at resorts and beaches. You can make your own version of the Sellner Water Wheel using the pattern and instructions below.
Pattern and instructions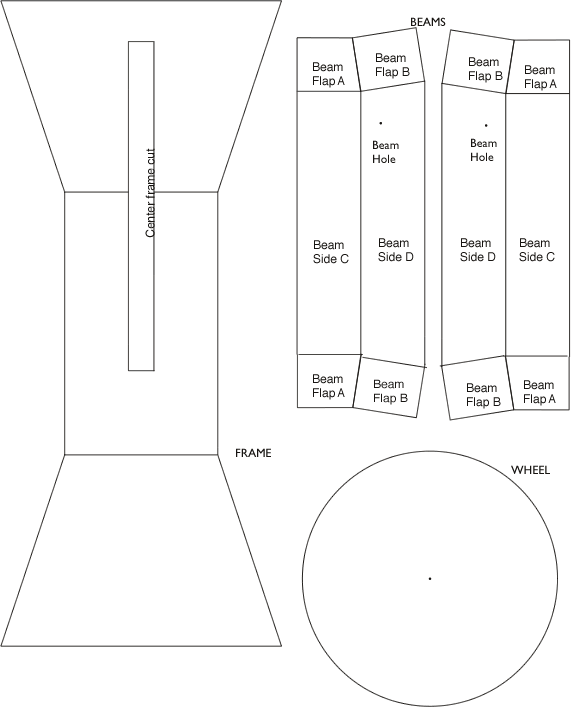 This Water Wheel can be made out of regular white paper printed directly from your computer. However, it will be sturdier if you use construction paper or cardboard.
You will need:
An adult's help (mabye) if you're under 10 years old
Paper, construction paper or thin cardboard.
A pen or pencil for tracing.
A ruler.
A pin or other sharp point.
Markers or crayons for decorating.
Glue, tape or a stapler.
A round toothpick, straightened paper clip, or other axel-type device.
If you will use the pattern printed directly from your computer, go to Step 4. Otherwise, follow the directions below.
Cut out and trace the pattern on your materials.
Add the dotted fold lines and the beam end cutting lines, using a ruler to make sure they are straight.
Carefully use a pin or other sharp point to transfer the small back dots on the wheel and beam pieces to your paper.
Color or decorate your pieces. You can decorate both sides of the wheel piece. You will want to decorate the back side of the beam pieces (not the side the pattern is drawn on).
Fold your beam and frame pieces on the dotted lines.
Using a pin, pencil or compass point or small nail, make holes through the black dots on the two beam pieces and the wheel.
Overlap Flaps A and B on the four beam ends and fasten with tape, staples or glue. You will have two long, rectangular half-boxes.
Set your folded frame piece upside down in front of you so that it makes a •U• shape.
This is the tricky part. Read carefully and check your work before attaching your beams!

Turn one beam so that side C is facing down.
If needed, turn your beam, with side C still facing down, so that Beam Side D (with the hole) is facing the center frame cut.
Set your beam into place on the underside of the frame. The beam hole should be near the center cut, facing the center cut. The beam edges should be lined up with the frame's outside edge and center cut edge.
Attach the beam to the frame at both beam ends. Repeat Step 10 for the other beam.

Turn your model over. Insert toothpick or other axel-like item through one of the beams. Place wheel in wheel cut, and finish by poking the toothpick through the wheel and the second beam hole.
Use your imagination to create a ladder for the wheel and to build additional scenery or other amusement park equipment. Amaze your friends with your Sellner Water Wheel model! You can see more pictures of Sellner devices at www.whirlin.com.