Whom could you find in limestone buildings?
Stonemasons
French-Canadian, Irish and German stonemasons brought immigrant traditions and refined quarrying and carving skills to Faribault. Cormack McCall (above left) and his brother, Thomas, were master masons who built not only their own homes of limestone, but also worked on the Episcopal Cathedral, Johnston Hall, and Shattuck buildings, including Shumway Hall (1887, above).
An editorial in a Faribault newspaper ca. 1890 noted: "From almost the earliest days there has been a group of workmen here…whole families working together digging the stone from the rock-bound earth, hewing, cutting, chiseling into shape, finally laying it in symmetrical course on course until the building was completed."
Bishop Whipple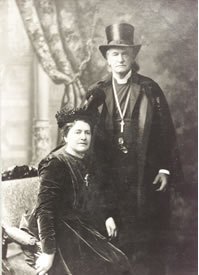 In 1860, Bishop Henry B. Whipple (pictured with wife Evangeline, ca. 1890) settled in Faribault as the first bishop of Minnesota's newly created Episcopal diocese. Whipple established a network of mission schools and and churches throughout the state, and was closely involved in the events and outcomes of the Dakotah War of 1862.
He solicited international support and funding for the Episcopal schools in Faribault, including the Seabury Divinity School (below), Shattuck School, St. Mary's Hall and the St. James School. The campuses featured limestone buildings in formal architectural styles. Whipple's home church, the Cathedral of Our Merciful Savior, was a seven-year project built of local stone.
Bridget Shanahan McMahon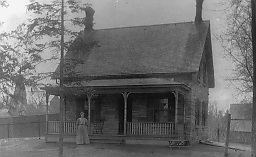 Bridget Shanahan lived a life similar to many women of her era. Daughter of Irish immigrants, she married Irish stone mason Thomas McMahon in Iowa in 1849. They lived in Waseca County before moving to Faribault in 1856. Thomas opened what was later called the Mankato quarry, then became a quarry owner and stonemason in Faribault. Thomas built the McMahon family home of local limestone in 1870 and 1871, spending $1200 on construction in the first year, and $1000 on "finishing" in the second. Bridget and Thomas had twelve children, three of whom died in infancy. The McMahon home stands at 603 Division Street East.