Frank Berry House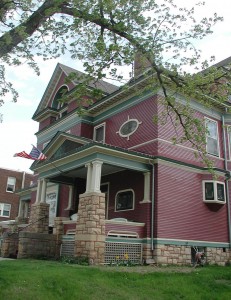 This 17-room house, designed by famed local architect Olof Hanson, was completed in 1896 for $6000. Hanson's records show a total of 1206 hours spent on the home, time almost equally split between Hanson and an associate, S. Rassmussen. The number of hours is reflected in the abundance of Queen Anne details in the home:
asymmetrical façade,
dominant front facing gable,
patterned shingles,
gable ornamentation in the single story entrance porch,
an oval window above the entry porch on the second floor.
Hanson offered many other pleasing Queen Anne details in his design.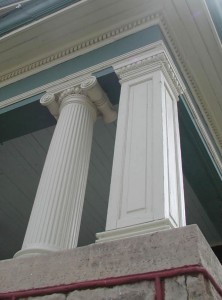 Here, paired, contrasting classic columns on a stone pedestal support the porch roof.
The paired porch columns are echoed inside the home in this cherrywood fireplace detail.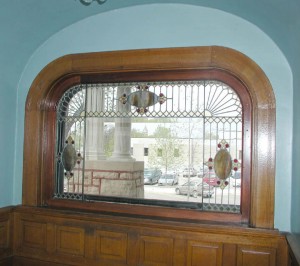 The importance of such detail in the design of the home is further emphasized by this interior window, which offers seating and a framed view of the columns
Vinework motifs also provided an original decorative theme throughout the home.

Vines wrap the hand-carved red oak baluster (left), and surround a cornicopia in a stained-glass window.
Although not original to the home, the vinework in the stenciled dining room ceiling was based on stenciling discovered on ceilings in other rooms of the home.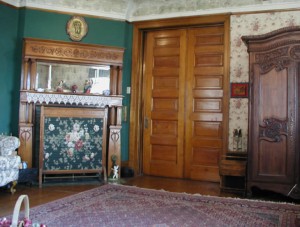 The home retains the typical Victorian feature of a front parlor, closed off from the front entrance hall by heavy oak pocket doors.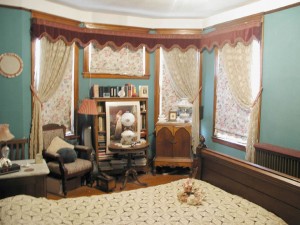 Queen Anne homes also often featured multi-sided bays. Here a bay on the east side of the home is viewed from a bedroom interior
During the home's restoration and renovation, homeowners discovered a number of interesting items between attic walls. These included a child's tin lunch box, containing a number of childhood treasures: a very small baseball mitt in a cloth money bag; a box of fishooks, a cork bobber and a fishing lure patented in 1902; a rusty lock; and a skate key on a leather thong.
Owners also found letters from Frank and Elizabeth's daughter, Fanny, written to her brother, Harry, in 1898. These letters included references to local events. One notable event was a Congregational Sunday School picnic outing attended by a young Frank Berry (son), in which a boat captained by "Dr. Rodgers" capsized with twelve children aboard. (One child did not survive.) Fanny reported: "Frank climbed up on the upper side of the boat all the while, so he didn't even get his feet wet. But most of the children got dunked."